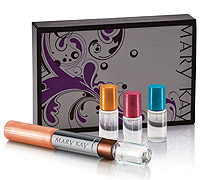 In one product even!
My favorite new toy is the Mary Kay Limited Edition Simply Chic Fragrance/Lip Gloss Duo. I love it! I've never been all that in to lip gloss, as a rule, but I decided that this toy was so neat, and such a good idea, I would be a very un-fun feminist if I didn't have one. Retailing for $35, you get a limited edition Starlet Kiss Nourishine Lip Gloss on one end, and four interchangeable mini Mary Kay® Eau de Toilette fragrances – Sparkling Honeysuckle™, Exotic Passionfruit™, Simply Cotton™ and Warm Amber™. Plus it comes in a very chic gift box. (And if you want one, I happen to be a
Mary Kay Independent Beauty Consultant
so I can hook you up!) Perfect for the Sparkliest of the Sparkle Ponies!